Implant-Retained Dentures – Northampton, MA • East Longmeadow, MA
No More Shifting & Uncomfortable Dentures
When it comes to tooth replacement, there are few solutions that can become as frustrating as dentures. The mouth is constantly changing shape when teeth are lost, which is why dentures can never truly be a long-term solution. However, there are ways to extend the life of your denture while making it fit better than ever before. With the help of the dentists at EMA Dental, you can have your denture customized to fit with dental implants! This implant-retained treatment is proven to make eating, speaking and smiling much easier while still acting as a long-term solution. To get started, contact our office today!
Why Choose EMA Dental for Implant-Retained Dentures?
Entire Implant Procedure Completed Under 1 Roof
Modern, State-of-the-Art Facility
Affordable Thanks to Dental Insurance & Financing Options
How Do Implant-Retained Dentures Work?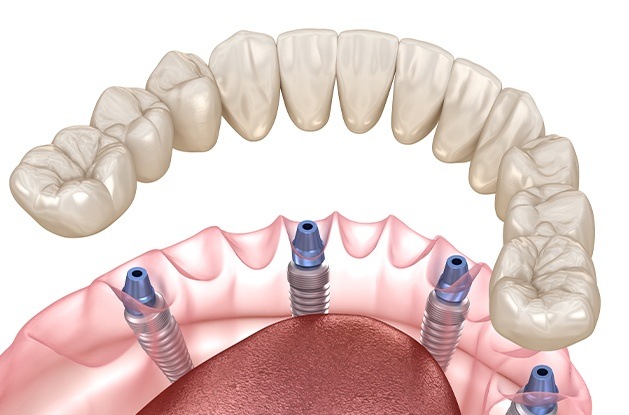 Dental implants consist of titanium posts that are placed directly into the jaw so they can integrate with your existing bone. Once fully bonded, they should feel indistinguishable from natural teeth. In the case of implant-retained dentures, these implants act as the anchor for your restoration. What's amazing about dental implants is you don't need an implant to replace each individual tooth. In fact, four to eight implants is typically all it takes to hold an entire arch of teeth. Your new denture can also be made to be removable or fixed, depending on your needs.
Am I a Candidate for Implant-Retained Dentures?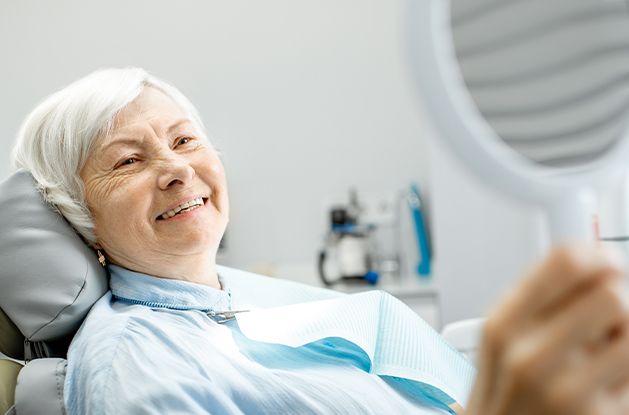 If you have sufficient bone volume, healthy gums and good oral health overall, chances are, you are eligible for implant-retained dentures! If you do not have sufficient bone volume, our dentists can work with you to schedule a bone grafting procedure. This works to expand the amount of viable bone material inside your jaw, improving your eligibility to receive dental implants. If you have any gum disease or tooth decay present, our office will perform all necessary treatments prior to your implantation. Once your mouth has achieved optimal oral health and your jaw has sufficient bone volume, we'll reexamine your eligibility for implants.
The Implant-Retained Dentures Procedure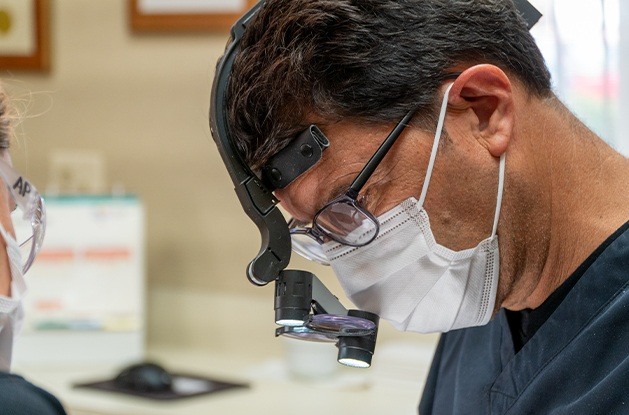 Implant-retained dentures are a multi-step process that takes several months to complete. During the planning stages, our dentists will confirm the best locations to place your implants. After obtaining detailed images of your internal oral structures via digital X-rays and 3D cone beam scans, we can create a reliable treatment plan and surgical guides for the day of your surgery.
During the placement stage, we'll open your gum tissue and place the implants directly into your jaw. Once placed, you'll be given several months for the implants to properly heal and integrate with your existing alveolar bone. Once fully integrated, healing caps will be placed in order to help the gum tissue heal around the implant. This is followed by capturing a digital impression of your mouth to create the permanent restoration. During the restoration phase, we'll attach the permanent denture to your implants and ensure that it maintains an even bite and comfortable fit.
Benefits of Combining Dentures & Dental Implants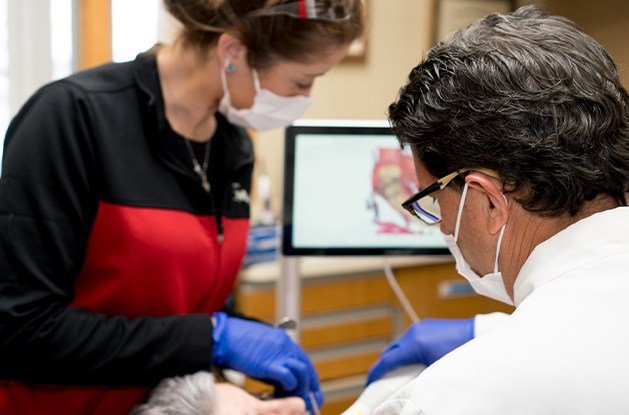 Implant-retained dentures carry many benefits compared to traditional dentures. Take a moment to consider them below to help you better build expectations for this life-changing treatment:
Easier to eat…without pain!
Reduces denture movement
Facilitates proper chewing
Improves health and digestive functions
Improves speech and appearance
Promotes "denture self-confidence"
More closely matches the feel of natural teeth
A cost-effective solution to long-term tooth loss
Do dental implants in East Longmeadow and Northampton sound like a dream-come-true? Don't hesitate to contact our office and schedule an implant consultation!