Dental Crowns – Northampton, MA • East Longmeadow, MA
How We Save Damaged Teeth
If you have a tooth that has a large cavity, sizable crack, or looks out of proportion to the rest of your smile, all of these problems and more can be easily remedied with a custom-made dental crown. At EMA Dental, our restorations are specially designed for each patient to guarantee the perfect fit and appearance, and our high-quality materials can be trusted to stand the test of time. We can use our crowns to preserve even the most distressed teeth from extraction, saving patients a lot of time and money in the process. If you have a tooth in need of serious repair, contact us today.
Why Choose EMA Dental for Dental Crowns?
100% Custom-Made Restorations for Each Patient
Crowns Designed Using the Latest Technology
Affordable Payment Options with Insurance & Financing
What Are Dental Crowns?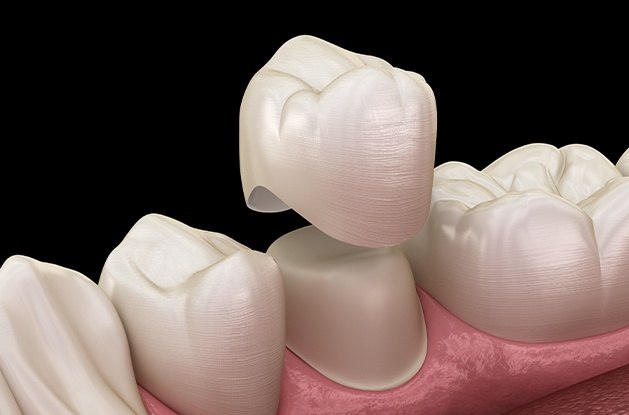 A dental crown is a long-lasting, natural-looking way to preserve a tooth. Our goal is always to provide you with the most beautiful smile possible. When a tooth cannot be restored with a filling, a crown is an excellent option. A lot of people have reservations about dental crowns, perhaps referring to a friend's dental work where they can see a black line near the gums.
Years ago, dental materials were limited and often porcelain fused to a gold crown was the only option. Many breakthroughs in dental materials have occurred, and EMA Dental continues to stay up to date as our materials evolve. Now there are stunning all-ceramic crowns, no gold, and no black line. These crowns will look and feel like they have been in your mouth your entire life, and they will be absolutely undetectable.
What Does the Procedure Entail?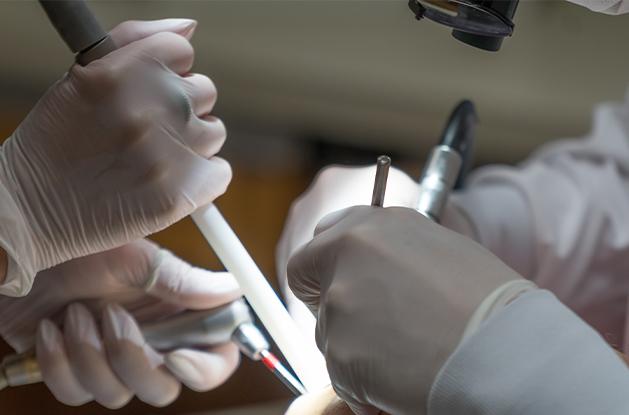 Preparing a tooth for a crown is a two-part procedure. Often, for one single tooth, the first appointment will require an hour. Your doctor will anesthetize the area and then remove any existing filling material or decay that may be present. Once the tooth is cleaned, your doctor will bond into place a core build-up. The build-up is a very hard, light-cured material that provides a solid substructure for the base of a crown. The entire periphery of the tooth and the core build-up is then prepared.
Typically, there will be three impressions taken throughout the hour-long procedure, and there will also be breaks in between for the patient. Once the preparation is finished, you will have a temporary crown placed. The temporary crown consists of an acrylic, plastic material and is very durable. The second appointment will be 3-4 weeks later, and for a single tooth, will require a half hour. Often, patients will not require anesthetic for this visit. The temporary crown is removed, and the new permanent crown will be placed and adjusted if necessary. You and your doctor will discuss aesthetics and the feel of the new crown, and if both are satisfied, the crown will be cemented with permanent cement.
What Are the Advantages of a Dental Crown?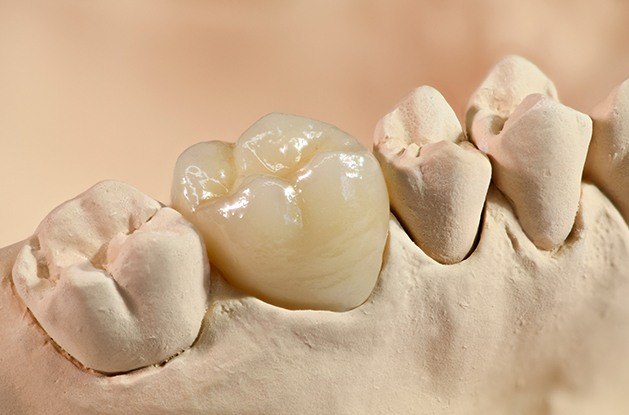 First, a crown will restore function, strength, and health to a previously compromised tooth. A crown gives you the chance to save your underlying tooth structure when fracture or decay occurs. Your new crown should last anywhere between 7-10 years or longer; the life expectancy of a crown varies between individuals and is largely based on how people care for their mouth in general. Because a crown is all one material and made to be completely lifelike, a tooth's aesthetics are always improved.
What Are the Disadvantages of a Dental Crown?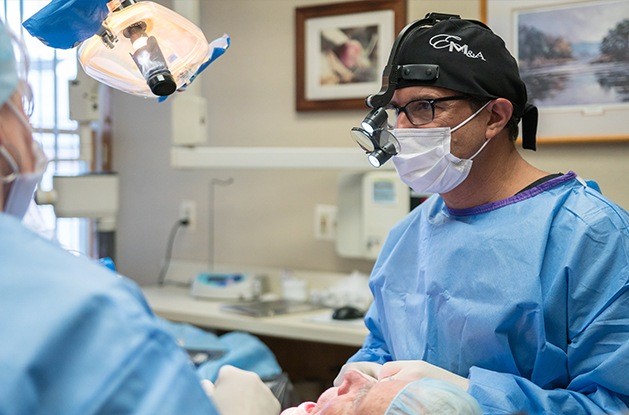 Preparing a tooth for a crown is considered an irreversible procedure, meaning that enamel is cut away in order to make room for a crown to cover over the existing tooth structure. There is usually minimal discomfort following a crown preparation, especially in the areas of the injection site and around the tissue of the tooth that has been worked on.
Who is a Candidate for this Service?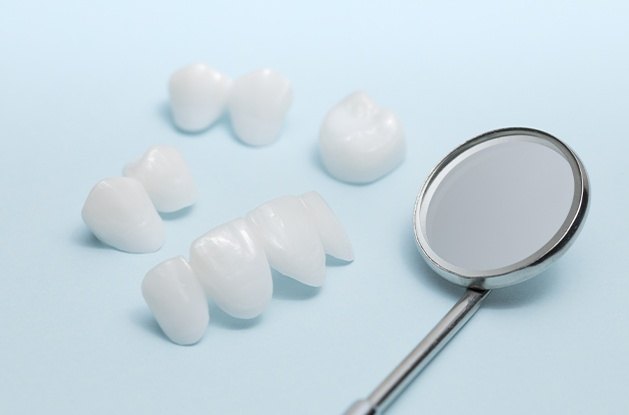 A clinical oral examination, dental radiographs, and a conversation with your doctor will determine if you are a good candidate for this procedure. There are statistics that suggest 15 million people in the U.S. alone have had some type of crown or bridge replacement to save compromised teeth.
Additional Information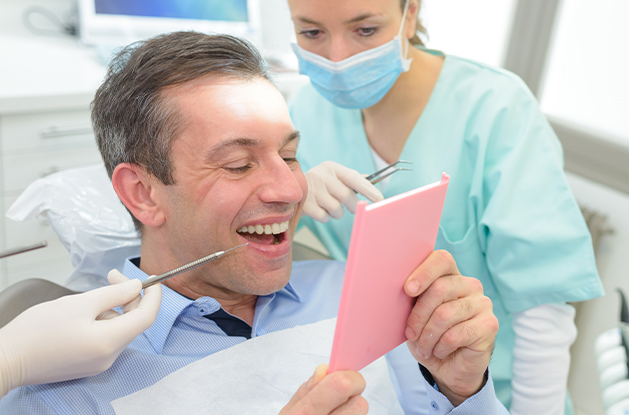 There is no recovery time after preparing a tooth for a crown. However, we do ask that you do not try to chew anything until your Novocain has completely worn off. There is a risk of tissue or tongue injury when you are still feeling the effects of anesthetic.
A crown procedure will require two trips to the dental office. The first appointment is usually the longer one and can vary depending on how many teeth are being prepared for treatment. After the appropriate consultation with your doctor, a treatment plan will be reviewed covering the cost of the procedure, and again, this can vary based on quantity and complexity of an individual patient's needs.
You will have the opportunity to speak with an administrative insurance specialist regarding your specific coverage, however, this procedure is typically covered by most dental insurance plans.
Dental Crowns FAQs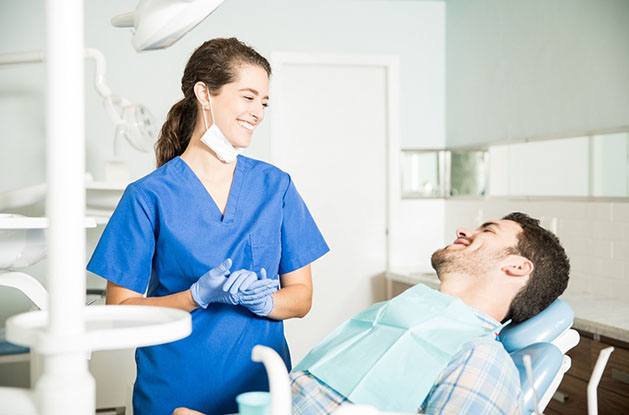 After reading through the above information, you now know more about the procedure, who is a candidate, and the benefits of restoring the look and function of a damaged tooth with a dental crown. If you still have a few questions on your mind, we are here to help! Since many of our patients like to do their research online, we've responded to a few frequently asked questions below. If you can't find the answer you are looking for or would simply prefer to speak directly with our team, don't hesitate to get in touch!
Are Dental Crowns Covered by Dental Insurance?
Since dental crowns are considered a restorative procedure, they are typically covered by dental insurance. With that being said, it's always a good idea to double-check the fine print on your plan. If you need any help with this process, our team would be more than happy to assist. Since we are in-network with several of the nation's leading providers, we can maximize your coverage and minimize your out-of-pocket expenses. Plus, if you are currently uninsured, low-to-no interest payment plans through CareCredit are also an option!
How Long Do Dental Crowns Last?
The lifespan of your dental crown depends largely on how well you care for it (and your smile in general). For example, if you don't floss, skip your bi-yearly visits, and chew on ice, then your dental crown may only last a few years. On the other hand, if you have a solid at-home oral hygiene regimen, visit our team every six months for a dental checkup and cleaning, and avoid poor dental habits, yours can last 10+ years!
Does Getting a Dental Crown Hurt?
Whether you are getting one dental crown placed or multiple, the first step is always the same: anesthetize the area. So, while you may still feel some pressure from the procedure, you will be completely comfortable throughout your entire treatment. Even when it comes time to leave our office, we will provide you with a list of aftercare instructions to ensure your recovery is pain-free as well.
Are There Any Foods I Should Avoid with Dental Crowns?
Dental crowns are comprised of high-quality, durable materials, ensuring you don't have to abide by a long list of dietary restrictions following your treatment. With that being said, you won't be able to chew on that side of your mouth with your temporary crown. Once your permanent one is anchored in place, we still recommend sticking to foods that are easy to chew for the first few days, like oatmeal and yogurt. After that, you'll be free to eat whatever you like! Just make sure to exercise caution with hard or sticky foods that can damage your crown.