Dental Bridges – East Longmeadow, MA
Seamlessly Replace the Gaps in Your Smile
Did you know that an estimated 140 million people are missing at least one tooth? If you're a part of that statistic, you know from experience just how much extensive tooth loss can affect your quality of life. Luckily, you don't have to live with a smile you don't love. At EMA Dental, we offer a high-quality tooth-replacement solution known as dental bridges. Not only do they allow you to regain complete function of your full set of teeth, but you can enjoy a beautiful, natural-looking appearance. If you'd like to learn more about dental bridges in East Longmeadow, continue reading or schedule a consultation with our team today!
Why Choose EMA Dental for Dental Bridges?
Advanced Technology Used to Make Quality Restorations
Natural-Looking Replacement Teeth
Insurance-Friendly Dental Practice
What is a Dental Bridge?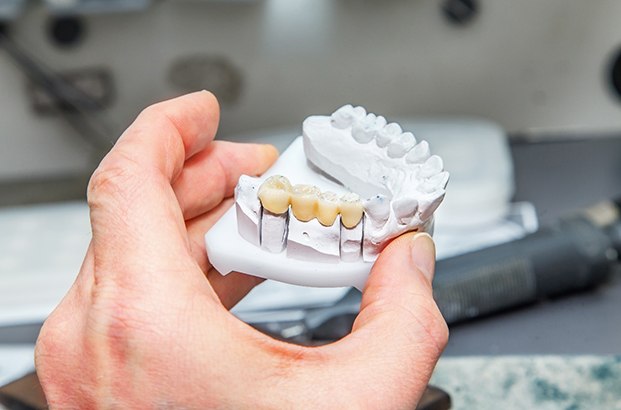 A dental bridge is a prosthetic that closes (or "bridges) the spaces in your smile. It's comprised of two dental crowns located on either side of the replacement teeth, called pontics. The crowns are anchored to your remaining teeth on either side of the gap. The prosthetic is custom-crafted from natural-looking materials, such as ceramic and porcelain. Since they're color-matched to your tooth enamel, no one will even be able to tell that you have a restoration once they're in place! To be eligible for a dental bridge, you must have excellent oral and overall health, strong teeth free of decay, and one to four missing consecutive teeth.
Types of Dental Bridges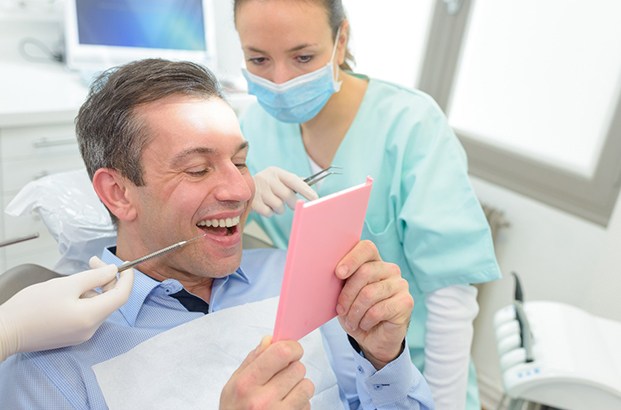 During your consultation, our team will conduct an oral examination to determine whether or not you're an ideal candidate for this tooth-replacement solution. We'll ask about your smile goals and review your medical and oral health history to decide which option works best for your needs. After our discussion, we'll recommend one of the following types of dental bridges:
Traditional Bridge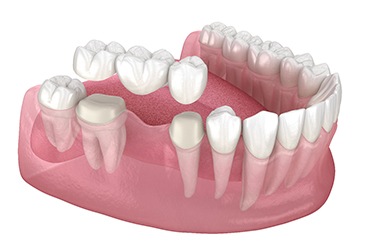 Do you have one or more missing teeth that are right next to each other? A traditional dental bridge may be the right option for you. It's anchored to your mouth with dental crowns, seamlessly closing the gaps in your smile. Keep in mind that your natural teeth will need to be altered to replace the missing ones.
Implant Bridge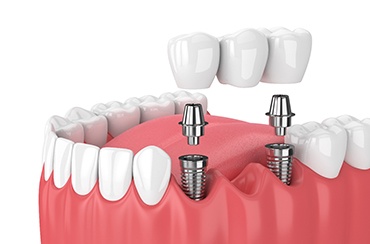 For more stability, we offer implant bridges, which are secured to your mouth using two dental implants instead of crowns. The titanium posts are placed on either side of the space in your smile. Once they've fused with the surrounding bone tissue via a process called osseointegration, we'll attach a dental bridge to the implants to replace the missing teeth. The best part? This option requires no alteration of your surrounding teeth!
The Benefits of Dental Bridges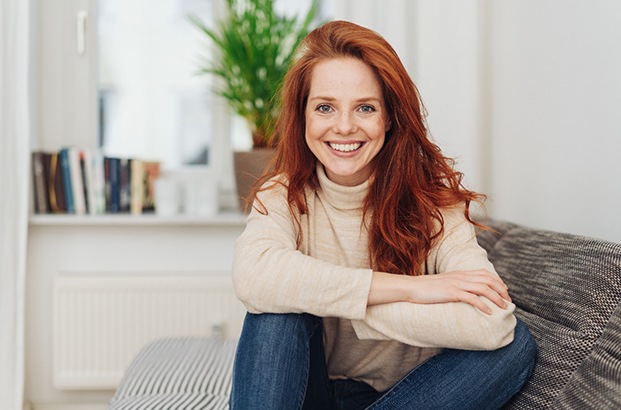 When you replace your missing teeth with dental bridges in East Longmeadow, you can expect to reap a range of benefits, including:
Maintained alignment of your existing teeth
Improved oral health
Jawbone preservation with implant bridges
A long-lasting restoration that can last up to 15 years (traditional) or over 35 years (implant-retained)
Natural-looking results that blend seamlessly with your existing teeth
Lower maintenance and easy to care for
Are you ready to start your journey towards a fully restored smile? Contact our office and schedule a consultation today!
Dental Bridges FAQs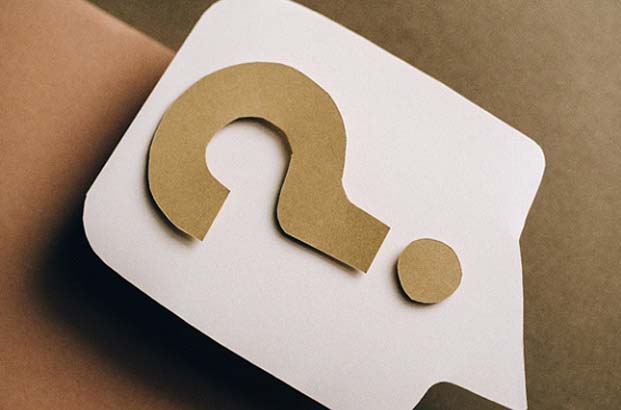 Patients have trusted dental bridges in Longmeadow and Northampton for generations to treat tooth loss , but they are a big commitment. It's normal to have a few concerns before you are comfortable agreeing to the procedure. There isn't any reason to worry. Here are the answers to some frequently asked questions to ease any apprehensions.