Technology & Comforts – East Longmeadow, MA
Diagnosing Problems In Less Time With Advanced Technology
If you're wondering what all the fancy equipment in our dentist office is all about, you'll be pleased to know they are pieces of technology that can improve your overall experience. Not only do they provide more accurate results for our dentists, but they allow us to provide you with faster, more comfortable treatment options. The advancements in dental technology have come a long way, and that means, you can have a much more enjoyable experience at the dentist office than before! We believe in the importance of investing in the highest quality tools to help our patients achieve their best smiles. At EMA Dental, you can rest assured that if your dentist in East Longmeadow believes in a tool's ability to offer faster, more accurate results, it'll be used in our office.
Intraoral Camera
Do you ever wish you could see what it is your dentist is referring to when looking at a specific tooth or area of your mouth? It can be hard to understand or grasp what is actually the problem when you can't see for yourself. Thankfully, intraoral cameras eliminate the guessing game by allowing you to see what we see during your appointment. Using a small, pen-shaped device, our dentists can take high-resolution images of your mouth and display them on a monitor so you can see. Not only does this make the process easier for dentists, but it allows us to discuss what is occurring in your mouth and which methods of treatments are best to address the problems.
Digital X-Rays
One necessary step that all patients must experience at some point during their dental hygiene journey is the x-ray process. Who doesn't love being exposed to massive amounts of radiation? Fortunately, you don't have to experience that level of exposure because of the use of digital x-rays. It's important for our dentists to be able to see what lies underneath your gum tissue, and the only way to do it is with x-rays. Not only are digital x-rays safer, but they're faster and more eco-friendly, emitting 90% less radiation than traditional x-rays.
CT/Cone Beam Scanner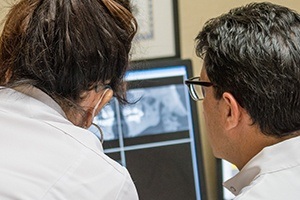 Depending on your individual dental needs, our dentists might suggest the CT/Cone Beam Scanner to see an unlimited view of your teeth, neck, and face. Producing high-quality images, we can use the information gathered from the machine to diagnose whatever oral problem you might be experiencing. It will also help us to craft the right treatment plan, especially if you are preparing for dental implant placement or a root canal. To use the machine, it requires that you either sit or stand. Once the scanner rotates around your head, we'll have the necessary scans within seconds. The process is completely painless.
Digital Impression System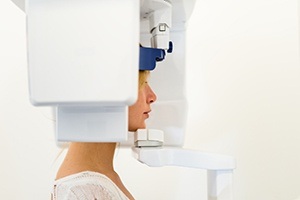 Ask anyone who's had impressions taken during a dental appointment and most will probably say it was an unenjoyable experience. The cold dental putty that it placed in your mouth not only tastes bad, but it is also uncomfortable, usually causing you to drool profusely. Now that we can use a digital impression system, those days are gone. Your dentist will use a small, handheld device to scan your mouth and take multiple photos of your teeth and gums. Throughout the process, sections of images will appear on a screen and ultimately come together to create a cohesive digital impression. This process creates more accurate results, especially if you are being treated for porcelain veneers, Invisalign, or any other restorative or cosmetic treatment.
Soft Tissue Laser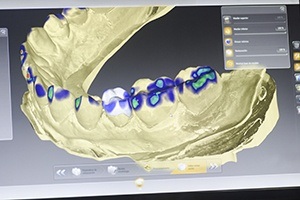 If you don't like the look of your gums, or if our dentists see that you have gum disease, we can remedy the problem quickly with the use of a soft tissue laser. Used to address a variety of problems, this small device can vaporize bacteria or lift your gums to create a beautiful smile. The laser's concentrated beam of light can remove infected tissue in minutes, and guess what? There will be little to no bleeding, pain or swelling, allowing for a faster, more comfortable procedure!