Prosthodontist – East Longmeadow
Repairing & Enhancing Your Smile
If you have a damaged smile or you want to cosmetically enhance your appearance, visiting your trusted prosthodontist in East Longmeadow at EMA Dental should be your first step to recreating your flawless smile. Give our dental office in East Longmeadow a call to schedule an appointment with one of our three skilled prosthodontists to start repairing your smile's appearance, form, and function.
What is a Prosthodontist?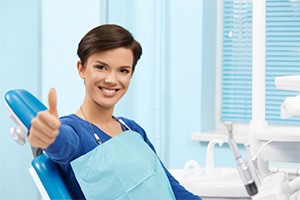 Prosthodontics is one of nine specialty fields recognized by the American Dental Association. A prosthodontist is a dentist who has completed doctoral work in the field of dentistry as well as advanced training that focuses on the cosmetic restoration of damaged or flawed teeth. In most cases, prosthodontists complete two to four years of additional training.
Why Should I Visit a Prosthodontist Instead of a General Dentist?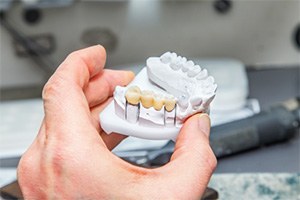 General dentists have the basic training necessary to deliver basic prosthodontic services, but when you rely on a prosthodontic specialist, you can feel confident that you'll receive the best possible results using the highest quality materials and all the latest techniques and technologies. For most treatment plans, your general dentist will likely offer more than adequate services, but a prosthodontist is the ideal practitioner to offer moderate or advanced restorative and cosmetic dentistry solutions.
What are Common Prosthodontic Services?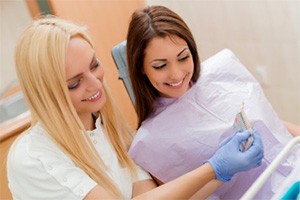 Prosthodontic services are any dentistry treatments that repair dental damage or correct smile irregulates. Some of those services patients rely on our prosthodontists to provide include all of the following:
Dentures
Following extensive tooth loss, partial or full dentures will be recommended. Both types of dentures use a gum-colored base material to support replacement teeth. Partial dentures are crafted to fit into the gaps in your smile, and the entire prosthetic is snapped into place using clasps anchored to surrounding teeth. Full dentures similarly use a base material to support the replacement teeth, but without healthy teeth to provide support for the dentures, they rely on suction between the denture base and the gums to hold the prosthetic in place.
Dental Crowns & Bridges
Dental crowns are restoration options that fit over the top of a damaged tooth to repair dental function and replace lost tooth structure. Crowns can also be used to support a fixed bridge tooth replacement prosthetic. Fixed bridges, as the name suggests, bridge a gap left by one or more consecutive missing teeth. The replacement teeth in a fixed bridge are fused to two dental crowns. Then, the crowns are affixed to healthy teeth on either side of the gap in your smile seamlessly recreating your lost tooth structures.
Learn About Crowns Learn About Bridges
Dental Implants
In addition to traditional dentures and fixed bridge tooth replacement options, we also utilize dental implants to replace missing teeth from the roots up. Dental implants are small, screw-like dental devices that are used to replace the lost roots of missing teeth. These versatile restorations can be used to support any number of replacement teeth from a single tooth dental crown to a complete set of dentures.
Cosmetic Solutions
In addition to these restorative services, prosthodontists also focus on cosmetic results. While general dentists may only emphasize repairing the form and function of your damaged smile, a prosthodontist also takes into consideration how the final results will look. Prosthodontists can also create custom cosmetic dentistry makeover plans, using services like porcelain veneers, dental bonding, and metal-free dental crowns to create a flawless smile.
Meet Our Prosthodontists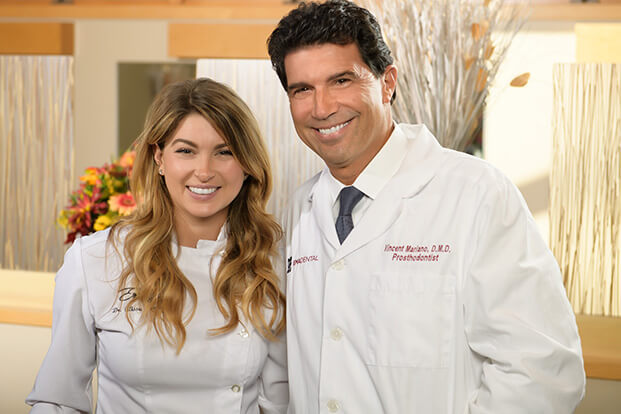 At EMA Dental in Longmeadow, we have two skilled prosthodontists on our team who can work together to deliver the best possible results for all of your restorative and cosmetic dentistry needs. Keep reading to learn more about each of our skilled practitioners.
Vincent J. Mariano, DMD
Dr. Mariano earned his doctor of dental medicine from the Tufts School of Dental Medicine in Boston where he went on to complete his advanced training in prosthodontics. Since 1984, Dr. Mariano has offered exceptional prosthodontic services. In order to stay at the leading edge of the field of prosthodontics, Dr. Mariano has stayed up to date on continuing education courses each year. He is board-certified, and he has hands-on training in dental implant placement and restoration to further improve his prosthodontic services.
Alissa B. Mariano, DMD
Dr. Mariano earned her doctor of dental medicine from the Tufts University School of Dental Medicine, and she continued her education through Tufts completing an advanced prosthodontics residency that focused on complex cases and treatment planning. Today, she is a board-certified prosthodontist who is proud to offer advanced restorative and cosmetic dentistry procedures to create beautiful, healthy smiles.