Teeth Whitening – Long Meadow, MA
Boost Your Confidence with a Beautiful Smile
Are you ready to turn back the clock on your stains and discoloration? We have multiple whitening options to give you the service that works best for you and your smile. Whether you want an extra boost of confidence for upcoming photos, you have an interview on the horizon, or you just want to update your look, we are ready to help. At EMA Dental, we offer both in-office and at-home whitening to make it as convenient as possible for our patients.
In-Office Whitening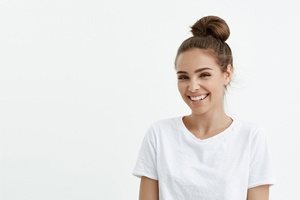 Do you want the strongest whitening in the shortest amount of time? You can book an appointment to experience our Refresh Whitening Spa, one of our most popular cosmetic treatments. With this treatment, we will use professional-grade whitening gel that is activated by a special lamp to provide beautiful and lasting results. The lamp allows us to treat your smile with speed and safety, but it also helps us to get to stains that are beneath the surface of your enamel. After less than an hour, you'll leave our office with a smile that is up to 8 shades whiter.
At-Home Whitening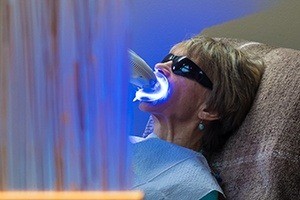 For those who rather not make an extra trip to our office, we offer teeth whitening in East Longmeadow at your home! We provide our patients with custom-made whitening kits that are designed to give you easy and noticeable results. Simply apply your whitening gel to our personalized trays and wear them for about 30 minutes each day. Most patients do this at night while in bed relaxing. After about 2 weeks, you will start to see beautiful results. While the effects are less dramatic this treatment is more comfortable, safe, and effective than store bought products because it's customized for your specific smile.
Are You a Candidate for Teeth Whitening?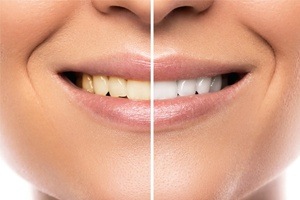 The best way to know if you're a good candidate is to visit our office! Your dentist in East Longmeadow will examine your smile and explain how you can benefit from our services. People who elect for our Refresh Whitening Spa will typically want dramatic results in a short amount of time. That's why our in-office whitening is popular before professional and social events where you may be speaking or taking photos.
Our at-home option is great for those who want to enjoy the safety and results of our professional whitening without leaving the comfort of their own home. Patients who use our customized whitening kits must be committed to following the directions for the best results. That's why many people choose to go to our Refresh Dental Spa—they don't have to worry about keeping up with instructions.
How to Maintain Your White Results
Unfortunately, your beautifully white results won't last forever, but there are some steps you can take to maximize your appearance. Primarily, what you eat and drink can have a great affect on the color of your smile. Try to avoid food items that are rich in color like red wine, coffee, blueberries, and marinara sauce. You should also avoid smoking or the use of tobacco because these products can cause yellowing. Additionally, maintain a positive oral healthcare routine by brushing and flossing. Lastly, you can visit our office for touch-up treatments to stretch out the lifespan of your whiteness.