Dental Implants in East Longmeadow
If you are among the 120 million Americans who are missing at least one tooth, you have likely tried traditional tooth replacement options, like a dental bridge, to restore your smile. Although they filled the empty space, they did not give you the results you had wanted. Now, you are ready to benefit from an option that closely looks and feels natural. With dental implants in East Longmeadow, you will regain the next best thing to your real teeth with a solution that offers over a 95% success rate. At EMA Dental, we have the treatment you need to complete your smile.
Implant Placement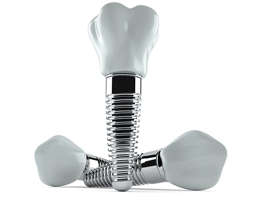 The first stage of the treatment process involves placing your implant post. This is a surgical procedure that is needed to insert the implant post into your jawbone. During the process, your gum tissue will be opened to expose your jawbone. A small hole is then drilled into it to allow the post to be placed. Your gum tissue will be sutured closed and the healing process will begin. Depending on how many teeth are being treated, you may need more than one implant post.
Implant Retained Crowns & Bridges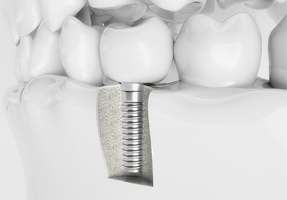 To replace a single tooth, an abutment will be attached to the implant post to connect a custom-made dental crown. It will be made to match your exact specifications in terms of size, shape, and color to blend in naturally with your remaining teeth.
If you have several teeth missing in a row, you can enjoy an alternative to a traditional dental bridge. A row of prosthetic teeth is created to fill the empty space. Instead of placing dental crowns on the adjacent teeth to hold the bridge in place, an average of one or two implant posts will be used.
Implant-Retained Dentures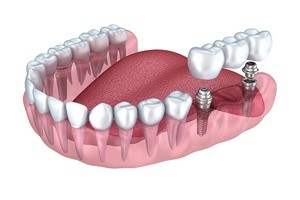 You can replace an entire arch of missing teeth with implant-retained dentures. A custom-made denture is created to meet your specific needs. Instead of using an adhesive or suction to hold it in place, an average of four dental implant posts are used. This allows you to enjoy added security and stability that is not possible with a traditional denture. You will not have to worry about any slipping or irritation.
Mini Dental Implants
If you have decreased density in your jawbone, you can still benefit from dental implants without a bone grafting procedure. Mini dental implants are smaller than traditional posts. As a result, they are often the perfect alternative for those who have lost density in their jawbone.
Accelerated Dental Implants
If you do not have the time for a lengthy treatment process, accelerated dental implants may be the solution for you. In just one day, your dentist in East Longmeadow will complete your smile using dental implants. This is the perfect option for those who do not have the time to wait several months.
Benefit from Dental Implants Today!
If you are ready to restore your smile, EMA Dental can help. Contact our office today to schedule your consultation for dental implants.