Technology & Comforts – Northampton, MA
Using The Latest Advancements For Faster, Comfortable Care
When preparing for a visit to the dentist office, you're probably hoping you won't have to spend too much time in the chair. Your time is precious, and luckily, our dentists at EMA Dental know that, which is why our office uses the latest advancements in dental technology to make your visits fast, accurate, and comfortable. We believe in the benefits technology can offer not only to our dentists but to our patients as well. Many of the technologies used allow our dentists to better explain your oral health, as well as provide more accurate results and faster treatments. If you're interested in what our office has to offer, contact us today for an appointment with a dentist in Northampton.
Intraoral Camera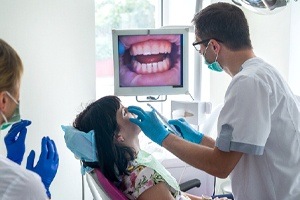 Have you ever wanted to see what it is that our dentists see when looking in your mouth? Well, now you can with an intraoral camera. This pen-shaped device is used to take high-resolution images of the inside of your teeth and gums. The images are then displayed on a nearby monitor so you can see for yourself. This allows our dentists to discuss, in real time, what is happening inside your mouth and what kinds of treatments can be used to address any problems.
Digital X-Rays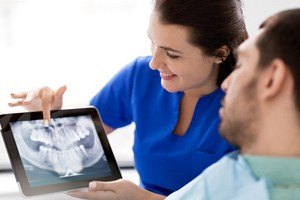 The idea of being exposed to large amounts of radiation doesn't sound fun at all, does it? Unfortunately, dentists need to be able to take x-rays of your mouth to see what problems might be existing beneath the gum line. Thankfully, with advancements in technology, your dentist in Northampton can now use digital x-rays to locate any issues beneath the oral tissue. Not only are they safer, faster, and eco-friendlier, but they emit 90% less radiation than a traditional x-ray machine.
CT/Cone Beam Scanner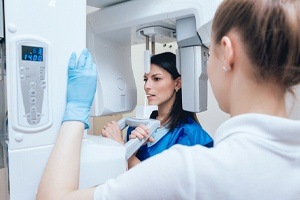 As one of the most advanced imaging processes, the CT/Cone Beam Scanner creates an unlimited view of your teeth, face, and neck. Offering high-quality images, our dentists can gather the necessary information needed to diagnose and treat your oral problem. While you sit or stand, the scanner will rotate around your head. The process is completely painless, and in seconds, we'll have precise scans to help with a variety of treatments such as dental implants and root canals.
Digital Impression System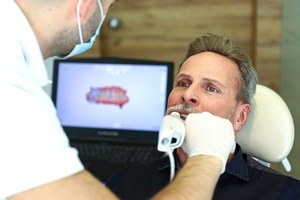 If the idea of putting cold dental putty in your mouth to capture an impression sounds bad, you'll be glad there's an alternative! Using a small, handheld device, our dentists can quickly scan your mouth and take multiple photos of your teeth and gums. Appearing on a screen will be a cohesive digital impression that is more accurate and much quicker than the traditional method.
Soft Tissue Laser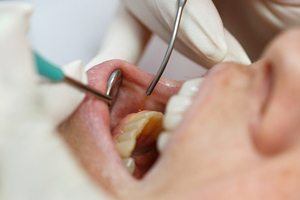 This small, handheld device is used for a variety of treatments. Do you have gum disease? It can eliminate bacteria by vaporizing it! Do you want your gums lifted? Using this small laser, it can easily remove gum tissue and create a more beautiful smile. The concentrated beam of light can remove infected tissue in a matter of minutes, and you'll experience little to no bleeding, pain, or swelling during or after your procedure. The soft tissue laser allows for faster, more accurate, and comfortable results.