Invisalign – Northampton, MA
Straighten Your Smile Without the Hassle of Traditional Braces
Do you feel like you missed out on the opportunity to straighten your smile in high school? As an adult, you feel like you have to choose between aligned teeth and your professional image. Lucky for you, Invisalign in Northampton is a modern orthodontic treatment that allows you to have both! At EMA Dental, we understand how much of an impact crooked, crowded, and misaligned teeth can have on your self-confidence. We don't want you to feel the need to hide your smile anymore, which is why we offer Invisalign!
What is Invisalign Treatment?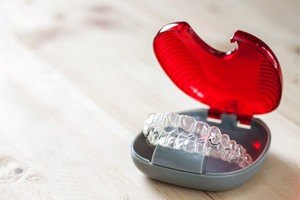 When you visit our office for your Invisalign consultation, we'll discuss whether it's the right option for you. This is also a great time for you to ask any questions or concerns you may have about the treatment! Invisalign involves a series of custom-crafted aligners made from FDA-approved smooth plastic to gently and strategically shift your teeth into their ideal positions.
During your consultation, we will be able to assess the severity of your case and talk about what you'd like to achieve through the treatment. This will allow us to develop an individualized plan and timeline which on average, ranges from 10 to 14 months. Every two weeks, after a short visit, we'll give you your next series of trays until your treatment has been completed.
What Problems Can Invisalign Fix?
Each patient has a unique smile that has different cosmetic imperfections. Luckily, Invisalign treatment can fix a variety of problems, including:
Gaps between teeth
Crowded teeth
Misaligned teeth
Crooked teeth
Overbite
Crossbite
Underbite
Open bite
During your initial visit, we'll take the time to discuss any limitations that Invisalign may have, and help you determine whether this treatment is right for you.
What are the Benefits of Invisalign?
Most patients choose Invisalign treatment over traditional metal braces because it offers a slew of benefits. Dealing with all that cumbersome wire and metal in your mouth can impact your daily life and cause you to have to sacrifice some things you enjoy. When you visit your cosmetic dentist in Northampton, you can enjoy a laundry list of benefits that Invisalign has to offer, including:
Practically invisible appearance due to the plastic that your aligners are crafted from.
A more comfortable feel and fit because each set of aligners is specially made for your smile and won't poke and prod at your oral tissues like metal would.
Improved oral hygiene due to the fact that your aligners are removable. You won't have to maneuver around wires and brackets when you brush and floss.
Enjoy all the foods and drinks that you normally would because your trays are removable.
Start your journey towards an improved smiled by scheduling a consultation with us today! You won't regret investing in a smile that you'll be proud to show off to all of your friends and family.