Porcelain Veneers – Northampton, MA
Beautiful Smiles in Just Two Appointments
If you're ready to revitalize your smile, you've come to the right place. At EMA Dental, we offer porcelain veneers in Northampton to give our patients a way to erase flaws like chips, cracks, gaps, slight misalignment, permanent discoloration, and more! This incredibly popular cosmetic service is completely customizable, allowing you to receive the results you've always dreamed of. Read on to learn more about porcelain veneers and how you can benefit from them.
What are Porcelain Veneers?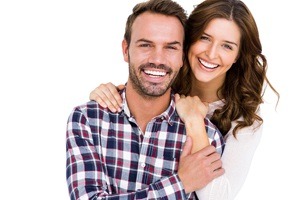 Porcelain veneers are thin sheaths of porcelain that are designed to cover the visible parts of your teeth. Made of high-quality dental porcelain, this cosmetic treatment looks, feels, and reflects light just like your natural teeth. The best part is that dental porcelain is relatively stain-resistant, which means you can enjoy your beautiful set of pearly whites for years to come.
This procedure typically takes 2 visits. During the first, we'll remove a slight portion of your enamel to make room for your veneers. We'll take special impressions of your smile and use them to develop your personalized treatment. Then, you'll come back into our office, where we'll bond your veneers to your smile to completely transform it. All that's left to do is to walk out of our office with a confident and radiant set of teeth.
The Benefits of Porcelain Veneers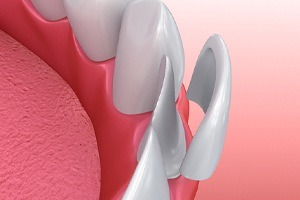 We offer porcelain veneers to our patients because of their many advantages. These include:
Confidence: Get ready to smile with confidence and beauty as porcelain veneers correct a wide variety of flaws in your smile.
Naturality: We can match the color, size, and shape of your porcelain veneers to the rest of your smile for the most natural appearance.
Fast results: Modern dentistry allows us to completely transform your smile in just 2 appointments.
Comfort: Gum tissue tolerates dental porcelain well, so you don't have to worry about irritation.
A renewed smile can literally change your life. Whether it's a confidence boost, or the ability to flash your smile when making an impression, our custom-made porcelain veneers can bring you amazing benefits.
Am I a Candidate for Porcelain Veneers?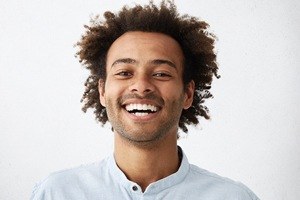 Candidates for porcelain veneers will typically have cosmetic flaws like cracked teeth, fractured teeth, slightly gapped teeth, or permanent discoloration. However, the only way to know if you're a candidate with certainty is to book a consultation with our office. Our cosmetic dentist in Northampton will carefully check your smile and the condition of your oral health before developing your personalized treatment plan. We must treat any preexisting health issues like decay or gum disease before beginning the procedure, which is another reason an initial consultation is important.
Are you ready to erase the flaws and imperfections that take away from your appearance and confidence? Contact our office today to get started on your smile transformation.