Prosthodontist – Northampton
Restoring Your Smile to Perfection
If you're not sure what a prosthodontist does, you're not alone. There are nine dental specialties recognized by the American Dental Association. Most patients have heard of the more common specialists like orthodontists and oral surgeons, but prosthodontists don't necessarily receive as much attention. If you're very lucky, you may never need to visit a specialty dentist of any kind, but when you do need to see a specialist, you'll be happy to hear that the EMA Dental team in Northampton has you covered. Rather than referring patients out to new offices anytime they need specialty care, we bring the specialists to you, including prosthodontists. If you're ready to find out more about the specialty field of prosthodontics, you can keep reading. We've provided some of the basic information about the field on this page. You can also contact our Northampton team to schedule an appointment with our prosthodontist, Dr. Vincent Mariano, or any of the other general dentists and dentistry specialists at EMA Dental.
What is a Prosthodontist?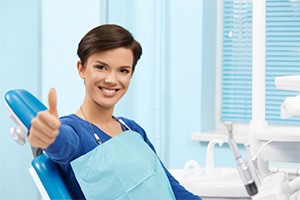 A prosthodontist is a dentist who has completed several years of advanced training in order to provide effective treatment for more advanced restorative and cosmetic dentistry cases. Advanced training for prosthodontists also incorporates an understanding of innovative dentistry techniques and technologies as well as the highest quality restoration materials.
Why Should I Visit a Prosthodontist Instead of a General Dentist?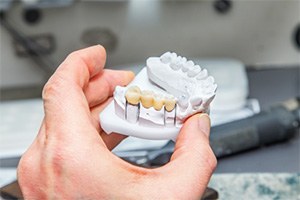 General dentists have the training an expertise necessary to provide basic restorative and cosmetic dentistry services, but if you have a more complex case or you're in need of special care to protect your oral and overall health. General dentists also focus their restorative services on repairing the form and function of the smile, but prosthodontists are also interested in preserving the natural appearance of the smile in order to deliver cosmetically superior results.
What are Common Prosthodontic Services?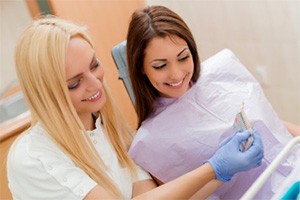 The field of prosthodontics can incorporate treatments that include a wide range of services to repair dental damage and enhance the appearance of patients' smiles. Some of the services commonly offered by prosthodontists in Northampton include:
Dental Crowns & Bridges
A dental crown is a restoration that fits firmly of the top of a tooth to repair damage, protect a tooth weakened by treatment, or support a dental implant tooth replacement prosthetic. Tooth-colored dental crowns can also be utilized as part of cosmetic dentistry plans. Fixed bridges are used to replace one or a few consecutive missing teeth. A row of fused together replacement teeth are attached to a dental crown on both sides. Then, the dental crown is affixed to surrounding healthy teeth to support the fixed bridge.
Partial & Full Dentures
For more advanced tooth loss, a partial or full denture may be a better solution. Partial dentures use gum colored base materials used to support any number of replacement teeth. The prosthetic fits snuggly between remaining teeth, and it's held in place with clasps. Full dentures are similarly made up of a gum-colored base material that supports a full row of replacement teeth. Because there are no teeth remaining to provide support for a full denture, these prosthetics rely on suction between the gums and denture base to provide stability.
Dental Implants
Dental implants are small posts used to replace the roots of lost teeth and provide improved stability and longevity for tooth replacement options. Versatile dental implant treatment plans can be personalized to each individual's needs, and the EMA Dental team can use implants to support any number of replacement teeth, including dental crowns, bridges, partials, and full dentures.
Cosmetic Solutions
In addition to repairing the lost tooth structure and renewing the function of your smile, prosthodontist take the cosmetic results of our treatment plans into consideration as well. We use tooth-colored materials and create restorative and cosmetic dentistry plans that deliver healthy, renewed smiles that look just like your natural, healthy teeth.
Meet Our Prosthodontist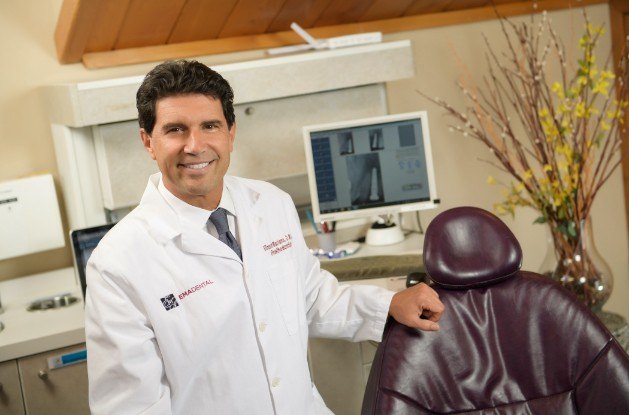 Our skilled prosthodontist Vincent J. Mariano, DMD is proud to provide an extensive range of specialty services for patients in our Northampton dental office location. Dr. Mariano earned his doctor of dental medicine from the Tufts School of Dental Medicine in Boston where he went on to complete his advanced training in prosthodontics. Since 1984, Dr. Mariano has offered exceptional prosthodontic services for patients in Northampton, East Longmeadow, and surrounding communities. In order to stay at the forefront of his specialty field, Dr. Mariano has completed numerous continuing education hours annually. He is board-certified, and he has taking training in dental implant placement and restoration to further improve his prosthodontic services.