Dental Implants in Northampton
Over the last several decades, new advancements in dentistry have made it possible to preserve natural teeth for longer than before. Despite these innovations, tooth loss is still a problem for 120 million Americans. While there are various conventional options to replace missing teeth, many have come to prefer a relatively new method. With dental implants in Northampton, we will complete your smile with a treatment that offers over a 95% success rate. As the next best thing to your natural teeth, you will make a true investment in your quality of life and oral health.
Implant Placement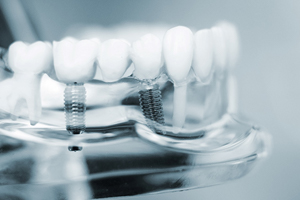 The success of the procedure relies on the placement of implant posts, which act as new tooth roots. During the first phase of your treatment, you will undergo a surgical procedure to place them into your jawbone. The number of posts needed will vary depending on how many teeth you are replacing.
The procedure will involve opening your gum tissue to expose your jawbone. A small hole is then drilled into it to allow the post to be placed. The gum tissue will be stitched closed and the healing process will begin. Over the next several weeks, your jawbone will fuse to the post, allowing it to potentially remain in place forever while providing a stable foundation for your replacement tooth.
Implant Retained Crowns & Bridge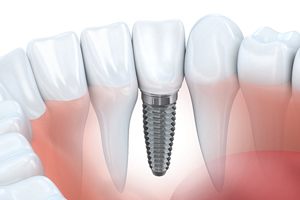 A single tooth is replaced by attaching an abutment to the post to connect a custom-made dental crown. If you are missing several teeth in a row, do not worry. Each tooth does not need to be treated individually. Instead, a bridge of prosthetic teeth is made to fill the empty space. An average of one or two implant posts are used to anchor it in place.
Implant-Retained Dentures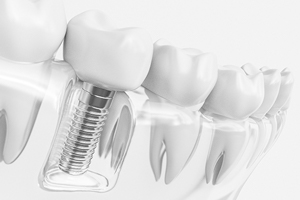 Complete tooth loss can be treated using an alternative to traditional dentures. Instead of using an adhesive or suction to hold the denture in place, implant posts will anchor it to your jawbone. This resolves any slipping and irritation that are often associated with dentures while also improving your biting force.
Mini Dental Implants
Often, if you have decreased density in your jawbone, you must undergo a grafting procedure to be a candidate for dental implants. Not with mini dental implants. They are the perfect alternative for those who have suffered bone loss. Since the posts are smaller than traditional ones, they can be used without needing bone grafting.
Accelerated Dental Implants
You have waited long enough to complete your smile. You do not want to undergo a lengthy treatment process. Now, you do not need to with accelerated dental implants. You can fill the empty spaces in your smile in just one day with your dentist in Northampton.
Complete Your Smile Today
Stop living with the challenges of tooth loss. At EMA Dental, we have the solutions you need to rehabilitate your smile. Contact our office today to schedule your consultation for dental implants. We will create the customized treatment plan you need to chew, speak, and smile with confidence.