Dental Bridges – Northampton, MA
Complete Your Smile with Strength & Beauty
If you're missing multiple teeth consecutively, the gap in your smile not only affects your appearance, but it can make oral healthcare harder, allowing plaque and bacteria to collect in the space. Thankfully, at EMA Dental, we have an amazing solution to seamlessly complete your smile. Dental bridges in Northampton have become a popular choice for patients who are missing multiple teeth. Keep reading to learn more about dental bridges and how you can benefit from this treatment.
What is a Dental Bridge?
A dental bridge is a custom-made prosthetic that we can use to literally "bridge" the gap in your smile. This personalized treatment utilizes crowns on either side to remain stable, and it can successfully restore the appearance of your missing teeth. The result is a complete smile that looks and feels natural, and the bridge is permanently fixed, so you won't have to worry about an oral appliance or denture shifting around in your mouth.
Candidates for Dental Bridges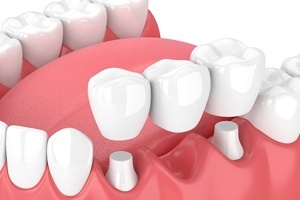 The best way to know if a dental bridge is right for you is to visit our office for a consultation. One of our experienced dentists will carefully examine your mouth and where you're missing teeth before recommending a personalized treatment plan. However, good candidates for dental bridges will typically:
Be missing 1 to 3 consecutive teeth
Be free of gum disease
Have a commitment to good oral healthcare
Visit our office for routine checkups and cleanings
The Dental Bridge Process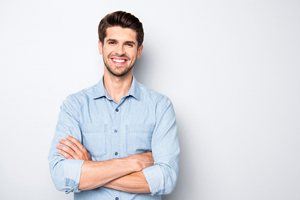 After deciding that a dental bridge is right for you, we'll schedule your appointment. We will need to remove a slight portion of your enamel from the teeth on either side of your gap to make room for the placement of dental crowns—these are the supports that stabilize your bridge. Then, we will place your bridge, permanently fixing it to the dental crowns. The result is a beautiful smile that allows you to chew, grin, speak, and function in your day to day life just like your natural teeth.
The Benefits of Dental Bridges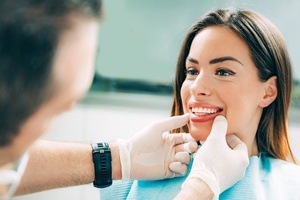 If you're considering dental bridges, it's important to know their advantages. We offer dental bridges because of these unique benefits:
Alignment: Your teeth rely on each other for support, so when there's a gap, they can become crooked and misaligned. A dental bridge will prevent this from happening by filling in the space.
Appearance: A dental bridge can help you maintain the shape of your face, avoiding a sunken-looking appearance. Plus, you'll be able to flash a beautifully complete set of teeth.
Function: Enjoy the ability to chew all your favorite foods and speak with confidence.
Smile preservation: Lost teeth often result in more pressure on the rest of your smile, leading to bite problems and extra wear and tear. However, a dental bridge can eliminate this problem by restoring your smile.
Does it sound like you could benefit from a dental bridge? Contact our office today to get started on a healthy and complete set of teeth.