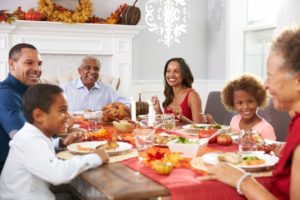 When it comes to replacing missing teeth, dental implants in East Longmeadow & Northampton are often considered the gold-standard; this incredible solution is capable of fully restoring your lost pearly whites in terms of look, feel, and functionality. And if you have dental implants, you certainly benefit from them every single day during the holidays! Here are just a few reasons you should be thankful for your dental implants this time of year, as they do many awesome things for you and your smile!
1. Comfortable & Natural-Looking
While other tooth restoration options like dentures are known for often slipping around whenever you talk or eat, dental implants remain securely in place and in the proper positions at all times. Thanks to this stability, you can enjoy comfortable results that don't just feel great—they look great, too!
2. Improved Self-Esteem
Your smile is one of the first things that people notice about you, so having a beautiful and complete set of teeth will work wonders for your self-confidence. Your smile will be at the center of all your family photos, and you'll feel great about laughing, smiling, and chatting away at the dinner table.
3. Provides Jawbone Support
Dental implants are composed of biocompatible materials that are able to fuse with your jawbone, which leads to unparalleled support and stability. This is very beneficial for your jawbone, since the forces exerted from your teeth prevent your jaw from prematurely deteriorating. This stimulation is important; biting and chewing isn't just for eating; it also promotes healthy facial structure!
4. Fewer Oral Health Issues
No one wants an unexpected dental emergency to throw a wrench in their holiday plans! Fortunately, dental implants actively promote good oral health, since they help prevent issues from becoming serious in the first place. With dental implants, you're at a greatly-lowered risk of developing things like gum infections—assuming you brush and floss diligently!
5. No Dietary Restrictions
Nothing is quite as exciting as sitting down for Thanksgiving or Christmas dinner and seeing the table lined with all of your mouth-watering favorites—and fortunately, dental implants will allow you to enjoy them all! Patients with other restoration solutions, like dentures, only gain back a portion of their bite force; but dental implants can restore a sufficient amount of bite power to your smile, meaning that mealtime will be better than ever.
This holiday season, you should pause and take a moment to be thankful for everything that your dental implants do for you. As long as you continue to take great care of them, they'll continue to serve you well for many holiday seasons to come!
About the Practice
The team at EMA Dental is honored to serve patients and families in the East Longmeadow and Northampton areas. The practice is pleased to offer a wide range of services including tooth replacement options like dental implants. If you have any questions about dental implants or would like to arrange a visit, feel free to contact the practice online to find the closest office to you.