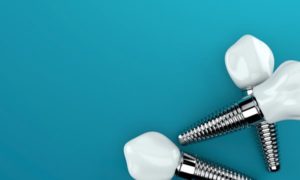 For several years now, dental implants have been considered the gold standard for replacing missing teeth. The incredible, ingenious posts are capable of restoring the entire structure of a lost tooth, from the roots to the crown. However, the process of receiving them can be a little daunting for some patients; after all, it is technically an oral surgical procedure. But you might have concerns about the overall safety of the treatment. Here's why you have nothing to worry about when it comes to getting dental implants, as they're considered safe and effective.
Are Dental Implants Safe to Receive?
The short answer here is yes, dental implants are considered perfectly safe. In fact, roughly half a million dental implants are successfully placed every year, making it not just a safe option, but also a popular one!
Dental implants work thanks to biocompatible titanium posts that are surgically embedded into the jawbone. These serve as the foundation for your restoration and ensure lasting durability and stability. Even though the prospect of surgery might seem intimidating, your dentist or oral surgeon will take every single precaution necessary to guarantee your safety, comfort, and successful implant placement. You'll be numbed and/or sedated, and you'll also be given detailed guidelines to follow both before and after the procedure to keep things on track.
If there's any type of health issue that might potentially impact your implants, such as gum disease or insufficient jawbone density, it will be considered and addressed as part of your treatment plan. It's also worth noting that all oral surgeries carry a small risk of bleeding disorders, infections, and undesirable allergic reactions, but thanks to the care taken by your dental team, you're in the best of hands!
What Might Cause Early Dental Implant Failure?
Although dental implants have an outstanding success rate of over 95%, there are still some things that can cause implant failure and create issues for your oral health. Be wary of the following:
Poor oral hygiene – Failing to keep your mouth clean or skipping dental checkups can lead to all sorts of oral health issues that will compromise your dental implants.
Bad oral habits – Smoking, chewing on ice cubes, biting your fingernails, and more can prove detrimental to the lifespan of your implants.
Autoimmune disease – Certain conditions such as diabetes or rheumatoid arthritis might inhibit your body's healing capabilities and prevent your implants from fusing with your jaw.
Certain medications – If you're taking medication that suppresses your body's immune system or impacts bone health, your implant sites might have trouble healing properly.
Insufficient jawbone density – Bone loss, regardless of the cause, can lead to a weaker jawbone that's simply unable to support your implants.
About the Practice
EMA Dental is honored to serve patients and families in the Westfield, East Longmeadow, and Northampton areas. The practice offers a wide range of services including various preventive, cosmetic, and restorative options. They're also thrilled to offer dental implants for patients with missing teeth! If you have any questions about dental implants or would like to schedule a consultation, you can contact the practice online for additional information or to find a location near you.