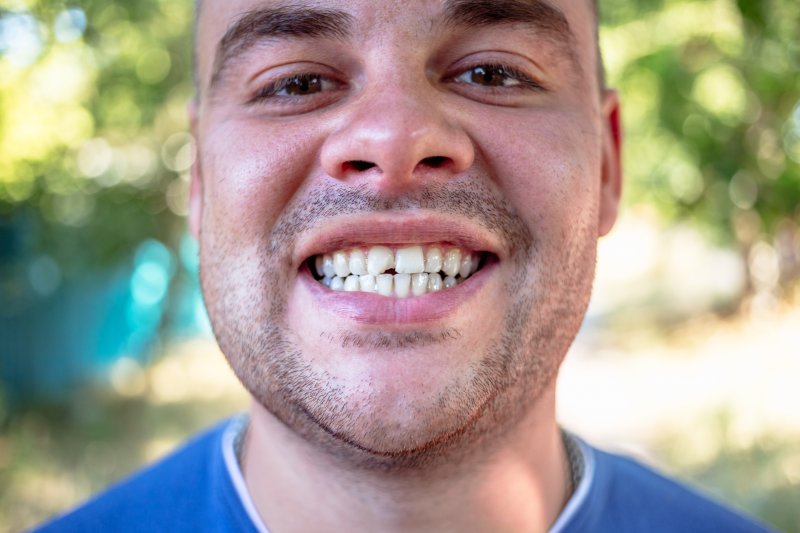 Too many people have grown accustomed to feeling unhappy with their teeth. They may compulsively cover their mouth when they laugh or refuse to smile when they meet someone for the first time. They decide to just get used to it because they think there's nothing they can do. If this sounds like you, there's good news: you don't have to live with a smile that makes you insecure. Modern science has advanced to the point that whatever cosmetic dental flaws you may have, there are probably solutions. Here are four common issues someone can have along with what a cosmetic dentist could do to fix them.
Yellow Teeth                                         
Whether it's from coffee, wine, soy sauce or smoking, there are millions of people with teeth yellower than they'd like.
Solution: Thankfully, teeth whitening is one of the easiest and most affordable cosmetic procedures there is. In one session a cosmetic dentist can make your smile up to eight shades brighter, with no discomfort on your part.
Chipped Teeth
All it takes is one small mistake to chip a tooth. Your enamel doesn't grow back, so unless you take a trip to the dentist, it will stay that way.
Solution: The most common way to fix a chip is direct bonding, where a resin is applied onto the tooth and sculpted to replicate the shape of the missing area. The process is fast, painless, and usually completed within a single appointment.
Crooked Teeth
Having crooked teeth is frustrating because they're so persistent. Even some people who've had braces before can start to see their teeth come out of alignment after a few years.
Solution: For people who don't want to deal with wires and brackets, Invisalign can be a great option. Aligners are much more comfortable and discreet than traditional braces and tend to be easier to maintain.
Severe Tooth Decay
Severely decayed teeth can completely warp your perception of yourself and alter the way you interact with everyone around you. Thankfully, there are options to address this issue.
Solution: First of all, a qualified dentist will be able to prevent any further decay. You should schedule an appointment to see how they can help. However, treating cavities falls outside the scope of both cosmetic dentistry and this article. Once your teeth are healthy, then your dentist can try one of these treatments to change how they look.
The first is a veneer, where a thin layer of enamel is removed and replaced by a porcelain shell made to simulate an attractive natural tooth. The other is dental crowns, i.e., ceramic replicas placed over your existing teeth. Both allow you to choose the exact color and shape of your teeth and can last for decades if maintained well.
There's no need to just cope with whatever issue you might have. Modern dental medicine can work miracles. No matter the problem, an experienced cosmetic dentist can help put you on the right track.
About Our Practice
At EMA Dental, our team of cosmetic dental professionals is equipped to deal with any issue. We're led by Dr. Lisa B. Emirzian, whose over 30 years of aesthetic dentistry experience allow us to tailor every treatment perfectly to suit your needs. Patients who want brighter smiles can relax in our Whitening Spa, where they'll receive the highest standard of care in a comfortable environment. If you have any questions about cosmetic dentistry, we can be reached via our website. You can also reach our Northampton office at (413) 584-4900 and our East Longmeadow location at (413) 731-8800.