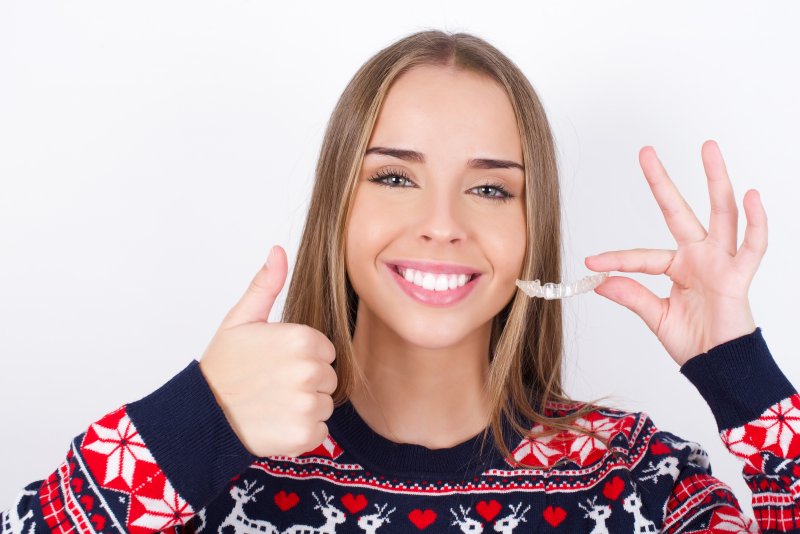 For most, the holiday season is one of the busiest times of the year. Not only are people buying gifts and throwing parties, but they're also hosting meals and traveling to see relatives. Needless to say, it's easy to lose track of the little things amidst this hustle and bustle. Still, Invisalign in East Longmeadow and Northampton shouldn't be one of these items. With that in mind, your local dentist has some suggestions. Here's a summary of four crucial ways to manage the Invisalign process during the holidays.
Follow the Invisalign Wear-Time
For treatment to work, you must wear your Invisalign aligners for 20-22 hours daily. You'll delay or even derail the alignment process if you don't. Even worse, failing to meet the wear time can cause pain and discomfort as aligning continues.
Of course, wearing your aligners over the holidays can be a challenge. Therefore, consider setting a phone alarm as a reminder. That way, you won't always have to remember the trays yourself.
Keep Your Invisalign Case Handy
Whether you're traveling cross-country or just going out to eat, store your aligners in their case when not using them. This rule is especially important during mealtimes; placing the trays in a napkin may cause others to mistake them for trash. As such, improper storage — a simple mistake — could eventually delay your treatment plan.
Given these facts, make sure to carry your Invisalign case with you at all times.
Clean Your Teeth After You Eat
It's always a good idea to brush and floss after a meal. In doing so, you eliminate food particles that get stuck between teeth. However, it's even more crucial during an alignment treatment. Without proper cleaning, leftover food bits could get trapped beneath your trays for hours. Should that happen, you'll raise your risk of tooth decay, cavities, and bad breath.
To make the post-meal cleanse easier, carry an on-the-go dental kit when you eat out. In particular, ensure it includes a travel-size toothbrush, toothpaste, and dental floss.
Remove Your Aligners During Meals
While it might seem harmless, having a piping-hot drink while wearing your aligners is a bad move. When hot liquid touches the trays, it'll warp the latter and thus upset the treatment process. In fact, the aligners could bend out of shape, making your teeth move in the wrong direction. Not only would that process be painful, but it'd also make the alignment take longer than necessary.
Thankfully, avoiding these outcomes is simple: just remember to remove your aligners every time you eat and drink.
True enough, sticking to Invisalign in East Longmeadow and Northampton amidst the holidays is a challenge. With the tips above, though, it's one you have the power to get through!
About the Practice
EMA Dental is based in Northampton, MA. As led by seven highly trained dentists, our practice offers highly safe and modern dental care. To that end, we perform excellent preventive, cosmetic, and restorative dentistry, not to mention emergency procedures. Our office is also a certified provider of Invisalign clear aligners. For more information or to book a visit, you can reach us on our website or by phone at (413)-731-8800 or (141)-358-44900.