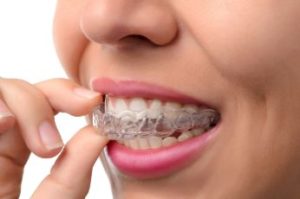 Do you avoid smiling for photographs or find yourself covering your mouth when you laugh? If so, you're not alone! Many people feel self-conscious about their crooked teeth, which can hold them back, both personally and professionally. Orthodontic treatment is a fantastic investment because you'll enjoy the benefits for a lifetime. Today, you have more options than ever before for straightening your smile and can even do it invisibly with Invisalign in Northampton. However, one of the first questions people often have is about cost. Find out more below and learn why Invisalign is an investment you'll be glad you made!
How Much Does Invisalign Cost?
The cost of Invisalign can vary quite a bit from person to person, but typically ranges between $3,500 – $8,000. It primarily depends on how severe your bite or alignment issues are and how many sets of trays you'll need (most patients get a new set of aligner trays about every 2 weeks).
Each patient is unique, so the best way to get an estimate of your treatment cost is to schedule a consultation with a dentist in Northampton who offers Invisalign. They'll examine your teeth and take images so they can give you an individual estimate of treatment time and cost.
Also, although not all insurance plans offer orthodontic coverage, most of the ones that do will cover Invisalign at the same rate as regular braces.
Is Invisalign a Worthwhile Investment?
Having a straight, even smile that adds to your self-confidence is incredibly valuable. And being able to achieve your results discreetly is also a huge advantage!
In fact, many people have always wanted to get orthodontic treatment but have held off because they didn't want to wear metal brackets and wires. Invisalign offers an alternative with the best of both worlds – great results without years of embarrassing "metal mouth."
But the benefits of Invisalign don't end there:
Better oral hygiene – Since the clear aligner trays are removable, it's much easier to brush and floss than with braces. That greatly reduces your risk for developing cavities or gum problems and helps your smile look great when you're done with treatment.
Less treatment time – Each patient is unique, but the average treatment time for Invisalign is 9-18 months. For braces, it's typically between 18-24 months.
No dietary restrictions – Patients in braces have to avoid hard, sticky or crunchy foods for the entire duration of treatment. With Invisalign, you can still eat your favorite foods.
Improved comfort – Smooth, plastic aligners are much more comfortable than metal braces and won't irritate your lips or cheeks.
Fewer progress visits –Most Invisalign patients only need to come in every 6-8 weeks. With traditional braces, it's usually every 4 weeks.
With Invisalign, it's never been so easy to have a smile you can feel great about showing off!
About the Author
Dr. Steven Johnson is a general, restorative, and cosmetic dentist and a graduate of the University of Washington School of Dental Medicine. He believes that a straight, even smile is important for good oral health and a positive self-image, and is glad to offer an effective alternative to braces like Invisalign. If you're considering Invisalign in Northampton and have any other questions, he can be reached via his website.