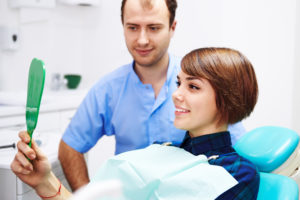 If you've made the decision to whiten, straighten, or perfect your smile, you may be wondering whether or not your general dentist can perform the cosmetic dentistry services you desire. Some aspects of dentistry, like oral surgery and orthodontics, have their own specialty field recognized by the American Dental Association. Unfortunately, this is not the case for cosmetic dentistry. This leaves many patients wondering how they should go about finding a qualified cosmetic dentist. In this post, we'll discuss some of the many things you should consider when choosing the best cosmetic dentist to deliver the flawless, healthy smile you deserve.

1 – Ask About Training
All general dentists receive some training in cosmetic dentistry as part of their doctoral work, but those who are most interested typically go on to complete continuing education, hands on training, or invest in technologies to deliver the best possible cosmetic dentistry experience. Before you begin your treatment plan, discuss what additional training your dentist has completed.
2 – Discuss Possible Services
Depending on your unique cosmetic dentistry goals, you may need any number of treatments from whitening to orthodontics. You don't want to waste time visiting multiple dental offices if you can avoid it, so ask your dentist in advance if you need any treatments that will need to be referred out of the office to a specialist.
3 – Look at Past Work
Looking at photos of past patients is possibly the best way to prepare yourself for what to expect from treatment. Most dentists keep before and after images of their past treatments to help patients more clearly visualize the potential results before beginning a smile makeover plan.
4 – Read Reviews
You want your dentist to be confident in his or her abilities, so hearing that a dentist believes they deliver flawless results should be expected. The best way to learn more about the patient experience is to hear from other patients. It's never been easier than it is today to access to third party, unsolicited patient feedback online. Many dentists also keep testimonials and other feedback they are willing to share with you during your consultation.
Meet the EMA Dental Team
At EMA Dental, we offer Northampton patients a wide range of dental services, including personalized cosmetic dentistry plans to create the smile of your dreams. We offer a number of treatment options, including teeth whitening, porcelain veneers, and Invisalign clear braces. If you're ready to get started, call the EMA Dental team to schedule a cosmetic dentistry consultation appointment with us in our Northampton or East Longmeadow dental offices. One of our skilled cosmetic dentists will review all of your treatment options and partner with you to plan your smile makeover.